What is Refuge?
Refuge is a place where you can take shelter from the things in life - the adversities, the challenges, that might represent your personal storm. Refuge is defined as "a condition of being safe or sheltered from pursuit, danger or trouble." Our goal is to help those deal with adversity and develop through our Lord Jesus Christ.
Life Recovery Group
Refuge "Life Recovery Group" is an anonymous group for men and women suffering from addiction, anxiety, stress, codependency, anger, abuse, relationship issues or any other personal challenge, this group is here to help you overcome the grip the Enemy has on you and to grow into the image of our Lord and Savior Jesus Christ, which will bring you peace. No matter what storm has been brewing in your life, you can seek refuge here at LIFEhouse.

Sessions
Refuge: LIFE RECOVERY - Virtual
Tuesdays, 6:30-8:00pm
Sessions are conducted using the 12 Steps of Recovery, based on the Biblical teachings of Jesus
Secure Virtual Meetings: You can use a PC, laptop, tablet, iPad, phone.
Note: The group is anonymous, so only the leader and other group attendees will be able to see who is part of the group.
Open share format using The Life Recovery Bible for topics and for guidance. You can purchase one through Amazon for $10-25 (different sizes available) (https://www.amazon.com/s?k=life+recovery+bible&ref=nb_sb_noss_1)
Meetings are anonymous so you can feel safe participating.
If you need to talk one-on-one outside of the meeting structure, you will have the opportunity to do that, or if there is a need to break out into separate women's and men's groups, we can discuss that more.
About Refuge's Leader
Marc Harnois
Email: mharnoi1@gmail.com
"I feel blessed to be part of this. My position on the Servant-Leadership team has given me the opportunity to fulfill God's calling for me to help those deal with adversity and to develop, through faith in our Lord Jesus Christ, the ability to be at peace and to live a life filled with service and joy that for me was once riddled with self-centeredness, anxiety, and chaos. There just isn't enough words to begin to tell you how good it feels to be set free from the Enemy's trap that was once my complete existence. God has performed an absolute miracle of transformation in my life. He's freed me from that trap." -Marc Harnois
testimonials
"I know what you might be thinking, because I thought this way myself: My life's a mess, I don't know how I'll ever be at peace. There's just way too much going on. As difficult as it sounds, you can learn to live a life of peace and serenity even when all around you is unsettled."
Marc Harnois, Refuge Leader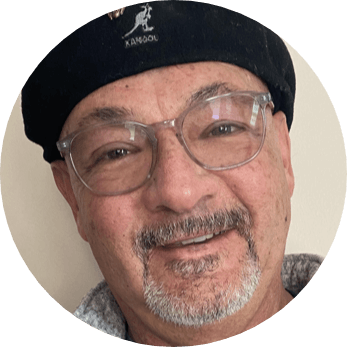 (Anonymous)
"I have been so blessed by this recovery group! We focus on the topic, strengthened by scriptural support. The leaders always value each individual's comments, and provide time and space for each member to share their heart in confidence. It's a true benefit to meet people all over the country who share the same bond of recovery with me!"
(Anonymous)
"I joined the group approximately 3 months ago. The group has helped me tremendously because we share our life experiences from a biblical standard. Marc and Robin are blessed in their leadership and are always offering help and support."