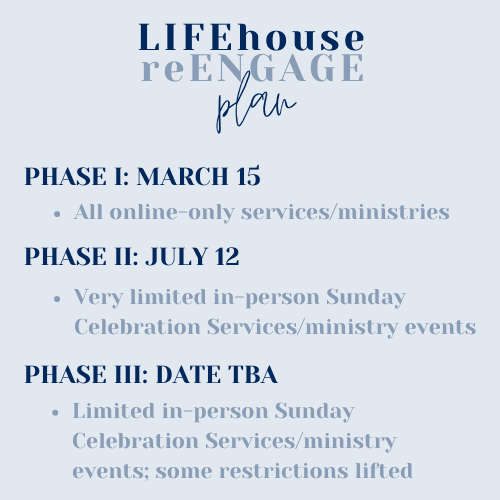 Welcome Back!
For those of you who are continuing to stay home, you WILL be able to participate in service via our live-stream on the LIFEhouse Church Facebook page. We encourage all vulnerable populations to continue to livestream at home.
We are excited to welcome you back to our church building to reENGAGE for in-person Sunday Celebration Services.
Online pre-registration for every individual is required, FOR EVERY SUNDAY.
For most attendees, please choose the "General" ticket
For staff who are helping to run the service (media team, worship team, speaker, ushers, greeters, and check-in), please choose the "Staff" ticket.
What to Expect
Check-in begins at 10:00 a.m. at the check-in table under the carport at the top of the hill. Check-in staff will ask you about signs/symptoms and exposure risk of COVID-19.
Staff will also take your temperature with a touchless handheld infrared thermometer prior to entering the building (no physical contact). This takes about 2 seconds (must be under 100.5F)
Masks/cloth face coverings are required, per local/state guidelines, including while singing.
Six foot social distancing between households will be enforced.
There will be no designated food/beverage fellowship time.
Ushers will guide your household to your seats, which will be distanced from other households by at least six feet.
Service will begin at 10:20 a.m.
After service concludes, rows/households will be dismissed in staggered groups and ushers will guide you to the exit via the main doors.
The downstairs is off limits, with the exception of the bathrooms, which will be open.
WorldChangers Children's Ministry, including nursery, will NOT be open at this time
Vulnerable Populations
Vulnerable populations are encouraged to stay home and continue live-streaming on the LIFEhouse Facebook page. Visit the Center for Disease Control website to find current information about who should take extra precautions and who is at increased risk for severe illness:
"Among adults, the risk for severe illness from COVID-19 increases with age, with older adults at highest risk. Severe illness means that the person with COVID-19 may require hospitalization, intensive care, or a ventilator to help them breathe, or they may even die."
"People of any age with certain underlying medical conditions are at increased risk for severe illness from COVID-19...chronic kidney disease, COPD, immunocompromised state..." Read the full list here.
Questions or Concerns
Please check out the walk-through video above prior to service so that you can get a feel for what it will look like when you arrive! If you have any concerns or feel uncomfortable with any of the expectations above, we encourage you to continue participating in our live-stream service online and stay tuned for Phase III details. We love you and look forward to seeing you again. There is a 60 person limit for capacity, so we hope you'll register as soon as possible to secure a spot. Some Life Groups and ministries will begin meeting in-person; please contact your leader for more information.
While the main points of our plan are discussed here on this page, our full Phase II reopening plan is available for you to read, we recommend you give it a look.