Quick Policy Summary
Registration required
Check-in begins at 10:00am, Service at 10:20am.
Note: Seating is limited for social distancing.
Masks are required for everyone at all times while inside the building:
Masks are optional ONLY if you're Fully Vaccinated and ONLY when seated during the sermon.
If you are feeling sick, please stay home and participate via the livestream.
Please read the entire policy below.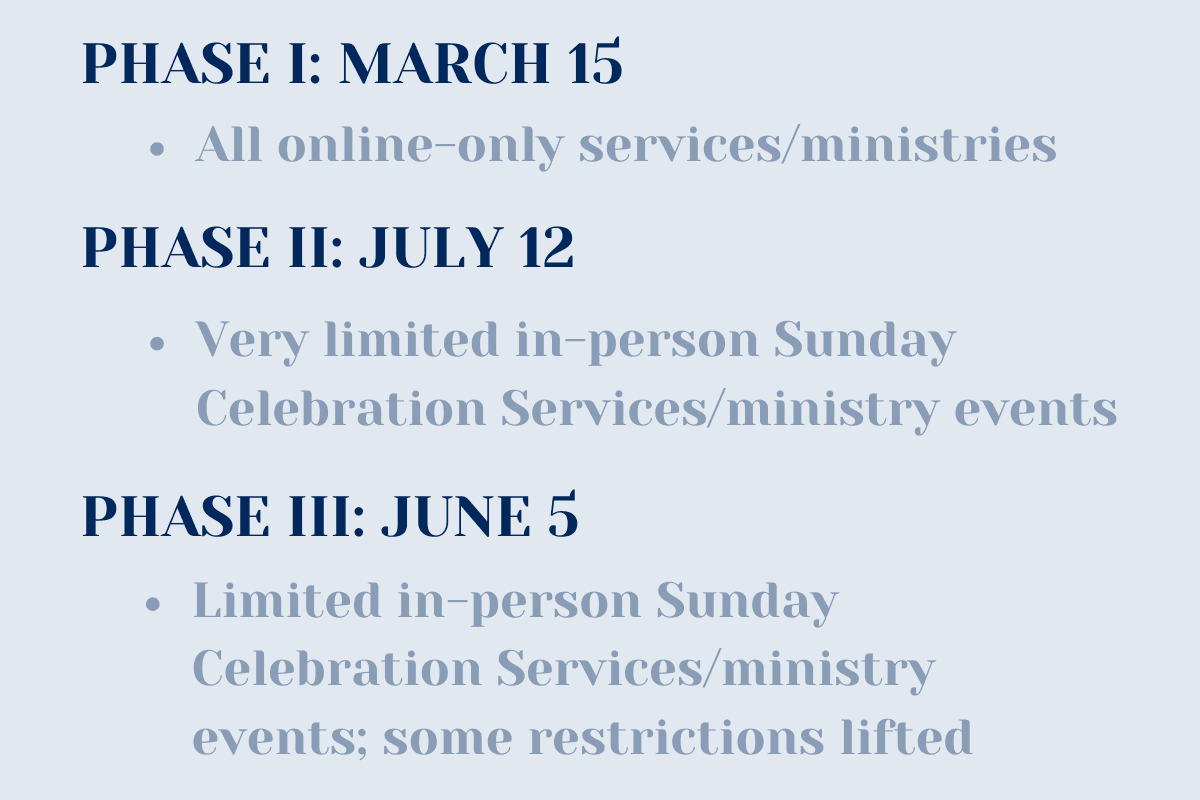 Welcome Back!
We are excited to welcome you back to our church building to reENGAGE for in-person Sunday Celebration Services.
For those of you who are continuing to stay home, you WILL be able to participate in service via our live-stream on the LIFEhouse Church Facebook page or our Youtube Channel! We encourage all vulnerable populations to continue to livestream at home.
Online pre-registration for every individual is required, FOR EVERY SUNDAY.
Phase 3 Plan
Check-in begins at 10:00 a.m. at the check-in table at the back of the church.
Masks will be required for everyone when entering and moving about the facility (as we have a mix of fully vaccinated and unvaccinated members and guests; we may also have some more vulnerable members/attendees due to underlying health conditions in the that mix).
Masks will be worn and social distancing will be maintained throughout the worship (singing) portion of our service. Chairs will remain set up with 6 ft distancing. Maximum seating capacity will be 70 due to limitations with the 6 ft spacing.
Masks will be optional only for those who are fully vaccinated during the sermon. Those who are unvaccinated are required per CDC and CT.gov guidelines to continue wearing masks at all times when indoors.
Masks will be required for everyone for the last worship song at the end of service and when service has concluded as people are moving about and exiting the building. Once outside, those who are fully vaccinated are not required to wear a mask. If you are unvaccinated, you should continue wearing a mask in groups where social distancing cannot be maintained; otherwise, when social distancing outside masks are not required.
We will continue to encourage those who are sick or experiencing symptoms of COVID-19 to remain home and join our LIFEhouse Facebook page or LIFEhouse YouTube Channel. Also, those who are not vaccinated and have health conditions that make them more vulnerable to COVID-19 are encouraged to remain at home and join our Sunday Celebration online.
There will be no designated food/beverage fellowship time.
Service will begin at 10:20 a.m. and will be livestreamed on the LIFEhouse Facebook page and the LIFEhouse YouTube channel.
We are making every effort to keep our church community at a high standard of protection for everyone's health, as well as, keeping in agreement with CDC/CT.gov guidelines and accommodate all of our members and guest attendees. Please see the Connecticut State guidelines for more information.
Nursery Open!
On-site Nursery is now open during this time for children ages 1 -3 years old.
For the safety of our families and little ones we want you to know that we have security, as well as health & safety protocols in place.
All of our nursery and children's church volunteers have cleared security background checks. They have been trained to our Foursquare Church children's safety policies, as well as our COVID-19 re-ENGAGE plan.
We ask that when you arrive on Sunday morning please check in your child(ren) at the welcome center located in the back of the church. A welcome team member will be happy to assist you. You can also pre- register your child(ren) when you pre- register yourself for that Sunday service by adding their name and age in the additional members of your household section.
All nursery volunteers will be required to wear masks at all times for the duration of the nursery service.
At the end of every service, when children are returned to their families, the room will be cleaned and sanitized.
Every Saturday prior to that Sunday Celebration Service the nursery and nursing mothers room will be cleaned and sanitized.
We will make every effort to ensure your children are well taken care of during our service in a clean, safe and healthy environment, by responsible, trained members of our ministry team.
Parents can also help us ensure the nursery environment is healthy and safe by keeping their children home if they exhibit any COVID-19 symptoms, or are showing any symptoms of any other cold or communicable illness, like a cold or flu.
We will encourage and recommend children wear masks during their time in the nursery but understand at their age it can be challenging for them and know it may not stay on for their whole duration, our teachers/volunteers will do their best to ensure the health and safety of all the children in our care by ensuring all using this service are following our re-ENGAGE Phase 3 policies.
For any further questions or concerns please contact admin@lifehousegroton.com
Questions or Concerns
If you have any concerns or feel uncomfortable with any of the expectations above, we encourage you to continue participating in our livestream service online. We love you and look forward to seeing you again!
If you or a family member would like prayer or have any questions/concerns, please email admin@lifehousegroton.com.